Routes for Musandam trip from Dubai by car
Let's say you have picked up a car from our luxury car rental, and are planning a trip to Musandam, here's everything you need to know before you go. For starters, a car journey from Dubai to Musandam can take about 3 to 4 hours according to the route you pick and the traffic on that day. Mainly there are two routes to reach Musandam:
Via Ras Al Khaimah
Via Sharjah
Route 1: Via Ras Al Khaimah
This route is definitely the fastest and most direct. Drive on the Sheikh Mohammed Bin Zayed Road (E311) towards Ras Al Khaimah and keep going straight until you get to Ras Al Khaimah-Al Jazirah Al Hamra Road.
Keep following this road till you arrive at the border crossing at Al Darah. There you will need to show your passport and pay a small visa fee in Omani Rial. Post that, you can continue your trip to Musandam.
Route 2: Via Sharjah
Taking the Sharjah route can be slightly long but it offers some of the most scenic views. Catch the Emirates Road (E611) towards Sharjah and keep going on to Al Dhaid Road (E88) till you get to Al Madam.
Take right onto Sharjah-Kalba Road (E102) and navigate through the mountain range. You'll reach the border crossing at Hatta. Clear the immigration and go on to reach Musandam.
Things you can do in Musandam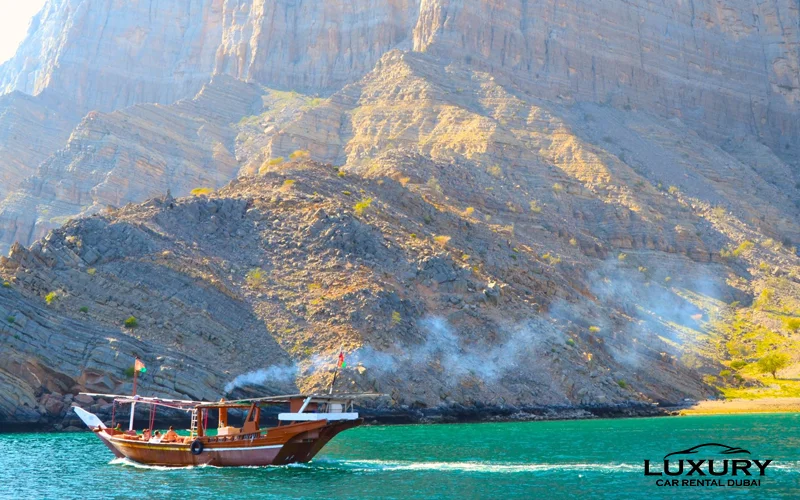 Thanks to a variety of fun activities in Musandam, one can never get bored during their entire You can indulge in the following to have a memorable and fun time:
Dhow cruise
Snorkeling and scuba diving
Beaches
Mountain trekking
Fishing
Dhow cruise
Experience the traditional Omani dhow cruise while enjoying the beauty of the fjords of Musandam. Marvel the rugged mountains and the stunning waters and say hi to some cute dolphins along the way.
Snorkeling and Scuba Diving
The presence of vast marine life in the waters around Musandam makes it an ideal spot for snorkeling and scuba diving. One can easily hire equipment from local vendors.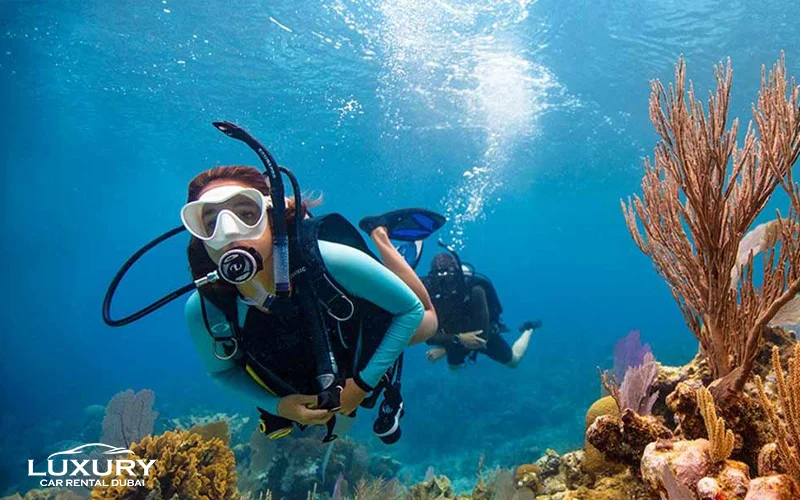 Beaches
Beach lovers love Musandam because it's home to some of the most gorgeous beaches in Oman. Khor Al Najd, Qanah Beach, and Lima Beach are amongst the most popular ones.
Mountain trekking
If you seek adventure, you must not miss trekking in the majestic Hajar Mountains. The tough route and picturesque sights make this a challenging experience rewarding.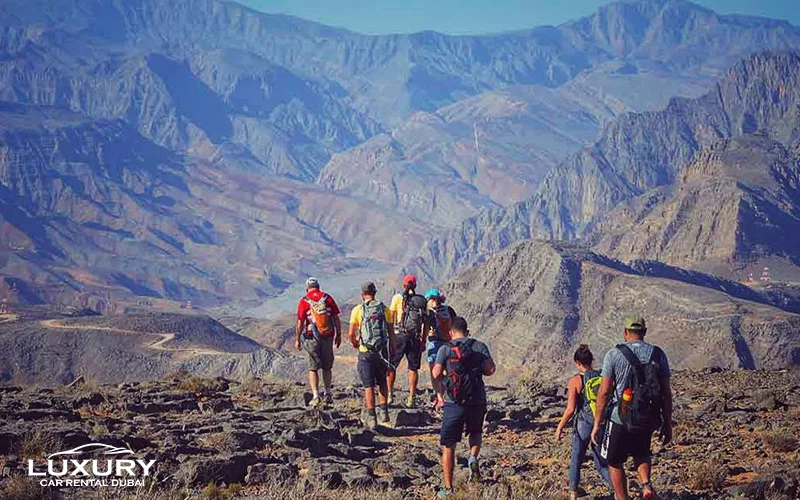 Fishing
Due to the presence of rich marine life, fishing is very popular here. Join a local fisherman or hire a private boat if you would love to catch a few fish.
Where to stay: Accommodation guide
Musandam has no dearth of accommodation options. There's something for every budget. You have beachfront resorts, traditional guesthouses and even camping sites. Pick the one that best suits you and book well in advance.
Here are some of the most famous hotels and resorts:
Six Senses Zighy Bay
Atana Musandam
Golden Tulip Khasab Hotel and Resort
Khasab Hotel
Six Senses Zighy Bay
This luxurious resort features private villas, infinity pools, a wide range of modern amenities and scenic views of the Hajar Mountains and the Gulf of Oman.
Atana Musandam
Located in Khasab, this chic hotel offers comfy rooms, a relaxing outdoor pool and a dining area serving international cuisine.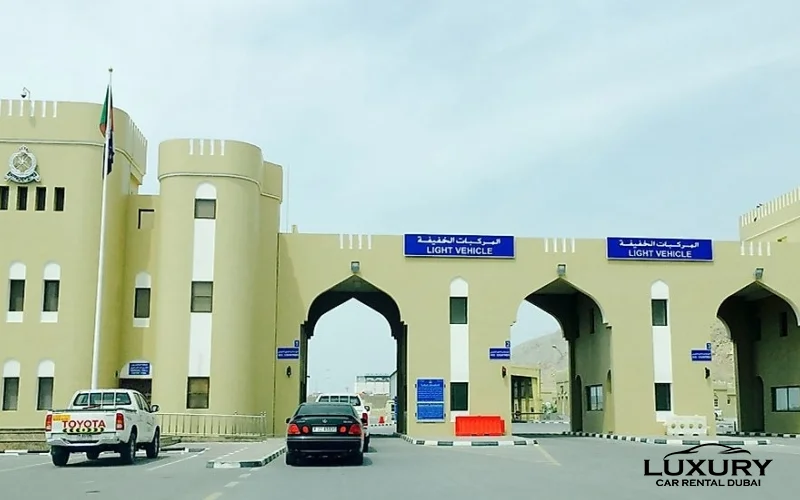 Golden Tulip Khasab Hotel and Resort
You'll find this property on the edge of a rocky cliff offering spectacular panoramas of the sea and the surrounding mountains. You get comfortable rooms, an outdoor swimming pool and a multi-cuisine restaurant.
Khasab Hotel
Located in the heart of Khasab, it's a budget-friendly option offering decent and comfortable rooms. Don't worry if you can't spend a lot, hire a room here and explore the town.
Tips to remember on your Musandam trip from Dubai by car
while we are discussing all the big points, let's also have a look at the little things that are very important to consider if you want a smooth trip:
| | |
| --- | --- |
| Important tips to consider | Description |
| Check visa requirements in advance | You would need a visa for entering Oman if you're not a UAE resident so make sure you have one |
| Route planning | Take the most suitable route to reach Musandam as per the time you have. Take breaks in between, to get some rest and fuel |
| Appropriate gear and clothing | Pack the right equipment and clothing for outdoor activities such as kayaking or mountain biking |
| Respect the local culture | Since Musandam is a conservative region, dress modestly in public places and avoid any public display of affection |
| Stay hydrated | It's really hot in Musandam so bring plenty of water. Stay hydrated all the time |
| Bring cash | Keeping some cash is always a good idea, especially while visiting local markets |
Next stop: Musandam!
Musandam trip from Dubai by car can be a wonderful little escape from everyday life and enjoy a range of exciting activities such as dhow cruises, snorkeling, fishing etc. Pick the most comfortable route, select the available accommodation option per your preference and budget, and follow the suggested tips for an unforgettable experience.